How to buy, sell, and create NFT tokens on the Ethereum ETH network
What is an NFT-token and why it is needed
NFT technology was originally created in 2017 based on smart contracts tied to Ethereum cryptocurrency. Smart contracts make it possible to prescribe in detail in the blockchain the terms of an agreement and the mechanism for its strict fulfillment. In essence, they are the digital equivalent of paper contracts. You can use a token to secure ownership of an asset in a smart contract. It is also a digital counterpart – in this case, the counterpart of a security, known as a security token.
Most tokens are fungible – that is, they are equal to each other and can be used as currency (for example, several investors of the same company have such tokens). There are also semi-fungible tokens that have one unique property that allows them to be distinguished from each other. For example, these tokens may entitle their holders to a movie ticket, in which case the price will be the same, but the seats assigned to the owners of the tokens in theaters will be different.
Non-fungible tokens (non-fungible tokens or NFT), on the other hand, are completely unique – and allow you to own a digital object that exists in a single copy: musical works, digital art objects, game items (weapons, characters) and any other unique virtual things.
Real-world objects can also be accounted for through NFT, by analogy with the way real estate or cars are accounted for in registries. But with real-world objects the main advantages of decentralized digital accounting disappear – the characteristics of such objects are difficult to unambiguously determine, their purchase and sale is impossible solely through the transfer of information, the thing itself must be transferred. That is why NFT is now mainly used as a global registry of rights for digital objects: photographs, music, paid objects in computer games, etc.
In an NFT transaction, the user buys only a unique digital certificate for the artwork recorded on the blockchain, and the artwork itself is not moved anywhere. Everything is stored in perpetual storage (so-called IPFS – Inter-Planetary File System, a peer-to-peer distributed file system that connects all computing devices together). Such a blockchain certificate (structurally just lines of code written on a blockchain) confirms that you own the original copy of the object – even though it can be viewed or downloaded by anyone. In the same way, any painting can belong to a museum or a private person, but you can see it in an exhibition or in a catalog.
"The author, like any Internet user, can store the picture anywhere: on his phone, flash drive, computer, tablet, but this means nothing. A digital work can still be downloaded, copied and forwarded, but only the person who owns the token will own the original. Digital art's lack of an original used to be a big problem; you couldn't sell it without giving it a physical form. NFT has solved this issue, and that is the revolutionary aspect of this technology," says the Meta Rite artist.
Reuters stresses that, as in many new niche investment sites, the NFT market has a risk of losses in case the excitement around the technology fades, and also there is a risk of becoming a victim of fraud, because many bidders hide their names behind pseudonyms.
"Since anyone who has access to a work can issue an NFT token for it, it is possible for a non-institutional tokenizer (someone who has no rights to the work) to unfairly use and commercialize someone else's work. Regulatory mechanisms to limit such cases should focus on art platforms that allow the generation of tokenized NFT works. Among such measures are requirements for mandatory identification and verification of users, introduction of additional tools to verify the authenticity of tokenized content and proof of rights to it," expert Ekaterina Portman, director of Deloitte Legal in the CIS, told Kommersant in an interview.
Nevertheless, as Andrei Alekhine, co-founder of Snark.art, a New York-based digital art selling and buying platform, explains, "NFT makes it possible even in the digital world, where there are no borders or physical copies, to still claim that you somehow "own" a particular work or collectible object. That is why NFT is widely used in the art industry, especially now, during the global pandemic when almost all exhibitions and art fairs have either been closed or gone online."
"The NFT wave has brought digital art to the forefront of public attention. In these six months alone, my work has taken part in six exhibitions, two forums and one international conference <…> no need to print merchandise, no need to roll art onto foam board, no need to go to the Russian Post Office with it. Simultaneously, with a click of the mouse, you get into the international digital art market. Yes, it's not easy, but it's there, and it can't help but make you happy," says Meta Rite.
And according to Alexander Salnikov, co-founder of Rarible – which is one of the largest NFT marketplaces in the world, founded by people from Russia – before NFT there was simply no effective technical possibility of owning digital objects, which "significantly limited the possibilities of monetizing the work of digital artists.
Legal status of NFT-tokens and transactions with them on the global crypto market
Let's take the OpenSea, one of the most popular platforms for nifty purchases. This agreement states that by placing or sending digital assets through the platform, you are granting OpenSea a non-exclusive, worldwide, royalty-free license with the right to enter into sub-licensing agreements.
Such a license is granted for the following designated purposes: use, copy, reproduction, processing, adaptation, modification, publication, transmission, display and distribution by any means. It is specifically emphasized that the granting of such a license does not limit the rights of the owner of any particular asset, and it is noted that OpenSea has no rights of any kind to sell your assets: "We're [OpenSea] just saying we might show it off a bit.
The rules of the Rarible specifically state that its users have no right to create NFT tokens that violate third-party rights. The issue of the transfer of exclusive rights to the intellectual property objects themselves has not yet been settled by the creators of Rarible.
"Since the transfer issues are most often regulated by agreements between the art platform or the right holder and the purchaser, these documents can serve as proof of ownership of the rights to the tokenized object", – says Ekaterina Portman. Thus, if there is no separate legal agreement between the creator and the purchaser of an NFT, the purchaser does not receive any exclusive rights to the work as an intellectual property object together with the purchase of a non-interchangeable token.
Yes, other rules may be set by some alternative platform – but to date, the user agreements of none of the major NFT transaction platforms contain such rules. It is possible that in the future, NFT token creators will be given the right to choose their own licensing terms or otherwise obtain rights (e.g., by way of alienation) in future versions of their products. But so far nothing is known about this either to the creators of works, legislators or operators of crypto-platforms.
Многие люди ставили на то, что пузырь NFT лопнет в 2022 году, но, как показывают данные, это не так. Напротив, объемы растут, и даже крупные компании, такие как H&M, Square Enix или Samsung, начинают входить в сектор метавселенных и невзаимозаменяемых токенов. Вот почему мы решили составить подробное руководство по использованию OpenSea, показывающее различные этапы покупки, продажи и создания NFT.
What you need to do before you start creating an NFT on OpenSea
The first step is to rush not to the OpenSea platform, but to MetaMask or Eidoo, because we need a wallet capable of interacting with the Ethereum blockchain. Now that we have a wallet, we can move on to the next step, which is to buy the ETH needed to pay the cost of the various transactions we are about to make.
How much Ethereum should I buy?
This largely depends on how many collections and NFTs we need to create, since the average transaction cost in Ethereum is about $100 plus a transaction for a new collection, which is about $300. Note: these numbers are variable and depend on both the price of ETH and the congestion of the Ethereum network.
Where to buy ETH?
All cryptocurrencies can be bought through so-called cryptocurrency exchanges, both centralized (CEX) and decentralized (DEX). Both MetaMask and Eidoo offer the possibility to buy cryptocurrency from the wallet itself by bank transfer or credit/debit card. Now it's time to go to OpenSea and log in with MetaMask or Wallet Connect if we use Eidoo.
How to connect Metamask to Opensea
Then we must select our Ethereum address to which we want to connect OpenSea, and confirm the connection by clicking "Connect".
How to buy NFT
First, let's look at the procedure for buying an NFT. The first thing we need to do is to find the NFT or collection we are interested in. In our case, we choose the Cryppo collection, and then we choose the NFT we want to buy. On the next screen we can see all the details of the NFT as well as its price, and in our case this NFT costs 0.05 ETH. At this point we have two options to buy the corresponding NFT:
we can click the "Buy Now" button, buying NFT at a fixed price, in this case because we are buying directly from the seller
we can make an offer on an NFT already in the user's possession.
To make an offer, we must click "Make Offer" and in the next screen we must select and accept the disclaimer. In the next screen, if we want to make an offer, we must first convert ETH to wETH.
In this case, just click "Convert ETH" and confirm the transaction by entering the price in wETH we want to offer and the deadline for our offer. Once we have entered all the data, click the "Convert ETH" button.
Choose an NFT collection to buy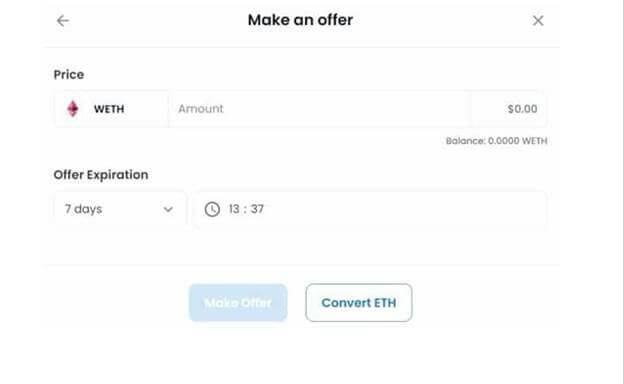 How to make an offer at Opensea
On the next screen we need to convert our ETH to wETH through the UniSwap platform, so just enter the total amount of ETH above and wETH below. After that we need to click the button and confirm the transaction on MetaMask or Eidoo, which in our case costs just over $15.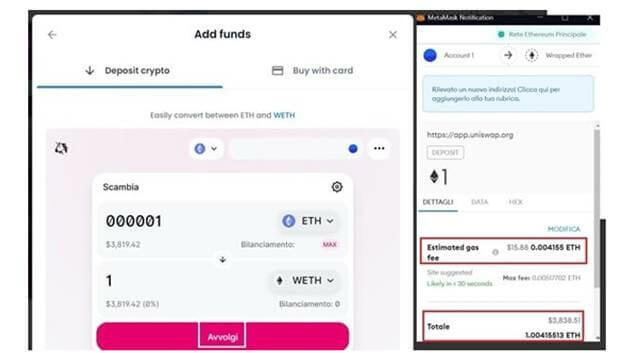 How to convert ETH to WETH
Only then can we go back and complete the transaction by clicking "Make an offer" and confirm the transaction again, which will allow us to buy NFT if the seller accepts our offer at the specified time.
If we want to buy it directly, we have to click "Buy Now" and confirm that we have read the disclaimer. Then a screen will open with the total NFT amount and other details such as the NFT royalty, and then just click "Confirm checkout" and confirm the transaction with MetaMask or Eidoo.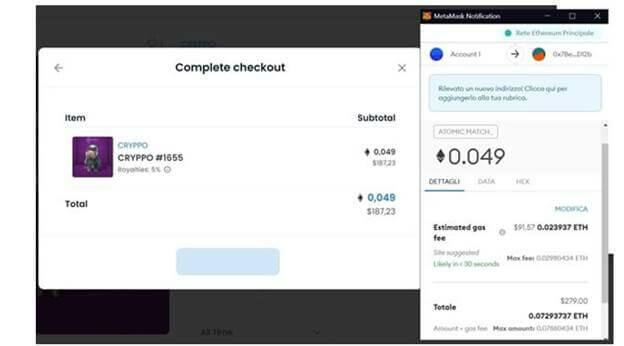 Registration completed
How to sell NFT
If we already have an NFT in our wallet and want to sell it, the procedure is different. First, we have to log in to our profile in the upper left corner.
Now select the NFT we want to sell and click on the 3 dots in the lower left corner of the NFT. A small menu will open in which we will find the item "Sell" to go to the next step: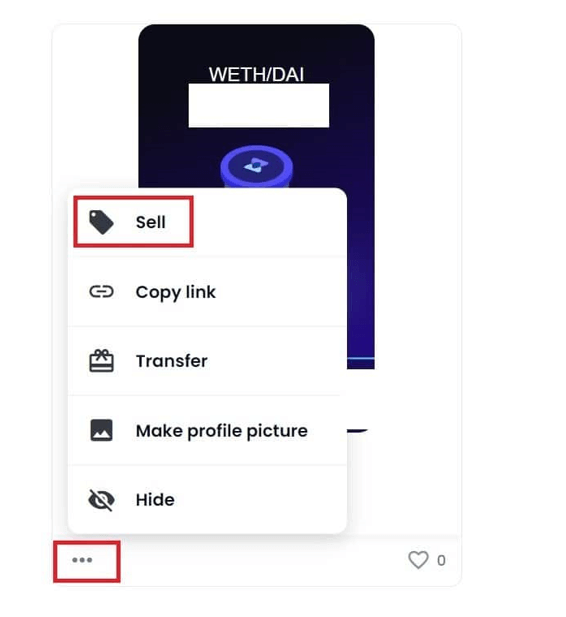 15184806-8.png">
The next step is intuitive: first we will have to choose whether we want to sell our NFT at a fixed price or if we want to hold a temporary auction; then we will need to insert a price in ETH. If we set the price too low compared to the minimum price (average price), OpenSea will warn us and recommend a minimum price to sell.
Finally, we must select the duration of the sale. In addition, in the "Advanced Options" section, we can also choose whether to merge our NFTs or sell them one at a time, and we can also choose whether to limit the sale to a specific address/user.
Finally, we click "Finish Listing" and confirm the transaction from MetaMask or Eidoo: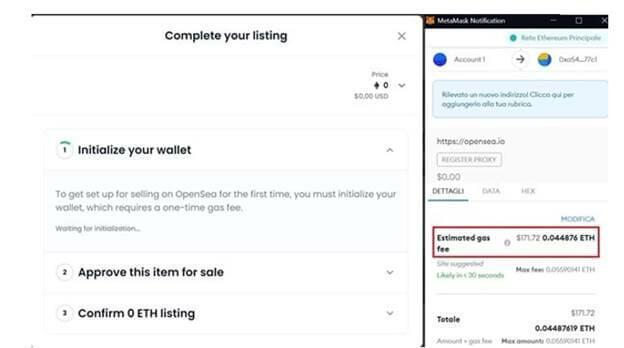 How to create an NFT
Let's move on to the juiciest part of the article, how to create an NFT in OpenSea. First of all, after logging into OpenSea with our wallet, we need to click "Create" in the upper right corner, and then sign the transaction with MetaMask (this signature is not paid).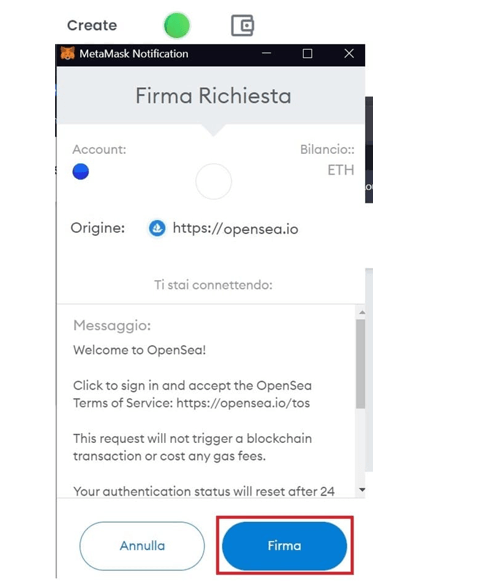 In the next step we have to insert our multimedia file (it can be an image, video, audio, etc., but no more than 100 MB). Then we have to enter a name, a link to our website or our social network, a short description and finally other information such as unlockable content, number of NFTs created, blockchain reference. Finally, we have to click on the "Create" button and confirm the transaction, which again will not cost anything.
In fact, in this way, we have only created an NFT, but it is not listed, and so we have to go to the previous step and perform the NFT listing procedure, paying the gas cost for the individual NFTs we want to place on the OpenSea market. Finally, there is a way to pay less for OpenSea, which is to use a Polygon network (MATIC). In this case, you need to add the Polygon network to MetaMask and then buy the MATIC token.
Read more articles about cryptocurrencies and mining at: crypto-mining.club.

Do you like reading such articles about cryptocurrencies and mining, want to support me as an author or ask questions? Then stop by and subscribe to my telegram channel @cryptomineg (https://t.me/cryptomineg). Be the first to know the news!