XMR-STAK-RX 1.0.5: CPU & GPU RandomX miner for Windows/Linux
The XMR-STAK-RX miner has been updated to version 1.0.5, providing support for two cryptographic projects using a variation of the RandomX CPU mining algorithm – Kevacoin (KEVA) and Safex Cash (SFX).
This release adds support for mining 2 new currencies. Their aliases are keva and safex respectively. If you plan to mine a coin with the same algorithm: use randomx_keva and randomx_safex in the pool.txt file or in the "currency for mining" setting parameter. Xmr-Stak-RX 1.0.5 has also been updated to the latest version of xmrig. Since GPUs do not make sense in mining RandomX compared to processors, we disabled it in the Xmr-Stak-RX assembly. If you want to mine GPU coins (like Ryo with Cryptonight-GPU): use the Xmr-Stak assembly.
Precompiled binaries
Precompiled Windows binaries use the OpenSource Software hwloc, OpenSSl, and microhttpd:
https://github.com/fireice-uk/xmr-stak-dep/releases/tag/v3
Precompiled Linux binaries use OpenSource software
hwloc – https://github.com/open-mpi/hwloc/archive/hwloc-2.0.2.tar.gz
OpenSSL – https://www.openssl.org/source/openssl-1.1.1.tar.gz
microhttpd – https://ftp.gnu.org/gnu/libmicrohttpd/libmicrohttpd-0.9.60.tar.gz
xmr-stak-rx – https://github.com/fireice-uk/xmr-stak/tree/xmr-stak-rx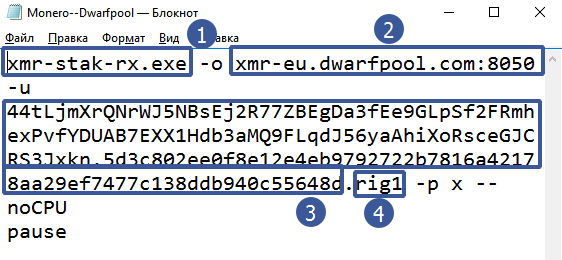 xmr-stak-rx.exe – name of the program to run
x mr-eu.dwarfpool.com:8050 – address of the pool and port
44tLjmXrQ … .RsceGJCRS3Jxkn – indicate the wallet.
.rig1 – put a dot again and specify the identifier of the video card or farm
example bat file:
xmr-stak-rx.exe -o xmr-eu.dwarfpool.com:8050 -u 44tLjmXrQNrWJ5NBsEj2R77ZBEgDa3fEe9GLpSf2FRmhexPvfYDUAB7EX
Recommended New Articles: